Engineering Experience is
What Counts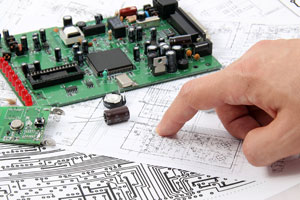 When it comes to new product design in a particular field, it takes more than just engineering talent to design the right product the first time. Experience makes the difference.  It's those small details that can either make or break a new product. Knowing these details is what keeps a company ahead of the competition. Hoag Electronics can provide you with in-depth expertise, fast turnaround time and unbeatable performance in a new custom electronic product design.
We provide our clients with a complete documentation package that includes schematics, printed circuit board design, bill of materials, software listings and all manufacturing data.
With over 25 years of new product design management, our expert engineering design services cover the following areas:
Microcontroller development and microprocessor hardware design
Firmware and Software development using assembly language and Windows Visual Basic
Digital Signal Processing using Analog Devices DSP components
Analog Circuit Design
Digital Circuit Design
Mixed Signal Electronics Printed Circuit Board (PCB) Design/Layout
Wireless Product Development and Engineering
Mixed Analog and Digital design
Multi-layer Printed Circuit Board (PCB) circuit design service and layout
Prototyping Electronic Circuits
Product Prototypes and Production Runs (Contract Manufacturing Service)
Surface Mount Technology (SMT) and miniaturization
Mechanical CAD drawings and design
Technical writing and documentation
" Our clients appreciate working with the right team"
No statement illustrates our capabilities or reputation better than our project achievements — because Hoag Electronics offers a commitment to quality, a responsiveness to client needs, and a proven record of experience.